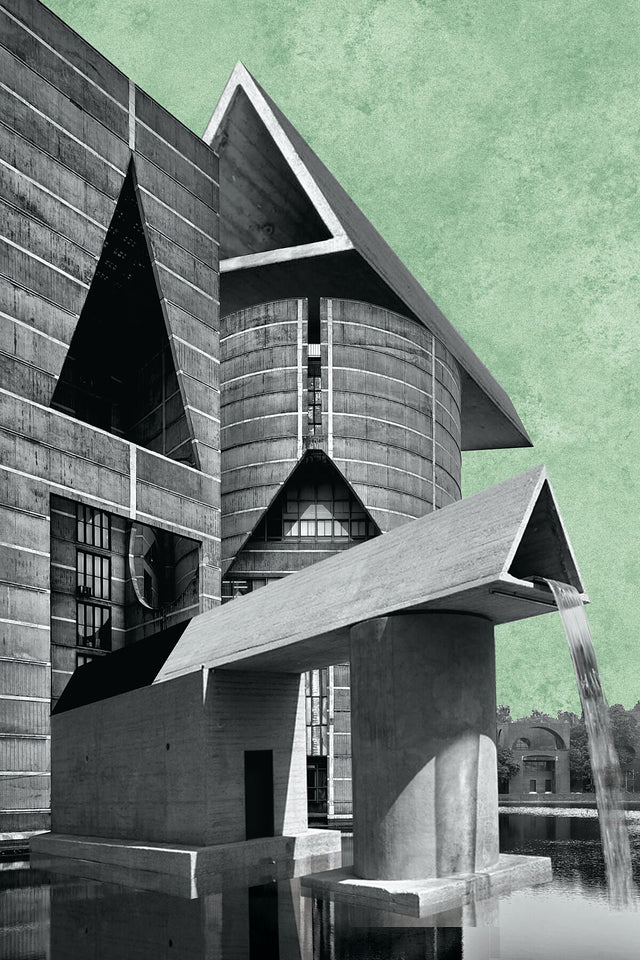 - Limited Edition of 100.
- Print sizes 20x30cm
- Giclée print.
- Certificate of authenticity.
- Ready to frame.

- Delivery within 7 days.


Aldo Rossi, Piazza del Municipio e Monumento ai Partigiani, Segrate, 1965-67⁠
⁠
Louis Kahn, National Parliament of Bangladesh, Dhaka, 1982⁠
⁠
The construction of the project for Segrate follows the victory of a competition in 1965 and combines many of the suggestions, research and geometric figures that Aldo Rossi had imagined in the early 1960s and even built with measured architectures. The city by fragments, the ideality of the archaeological sections, the dependent relationships between the parts of the project guide the choices and agreements between the small architectures. In the same way, on a smaller scale, the recognizable geometries of the triangular section, of the cylinder, memory of the column, of the podium and the steps identify the recurring figures of a close dialogue between architecture and representation. Entirely made of concrete, white enamelled in the original idea, it adds different elements in balance with each other, like the faces of a single medal.⁠
⁠
Dhaka's parliament has several formal and material analogies with Rossi's project. Although it is a completely different type of architecture, on a different scale and with a totally different function, it is impossible not to notice the same attention to the forms, which originate a calibrated compositional system. Kahn's project is also made of concrete, the pure volumes generate the spaces, the presence of water is fundamental… the two juxtaposing projects remain in balance with each other!⁠
Print Information
Giclée art printing papers
Hahnemühle German Etching - This heavyweight paper has a slightly warm base tone and a strong mottled texture. It creates a print with strong colours and deep blacks that feel rich and high in contrast. This is due to the texture of the paper enabling it to hold more ink and capture the light. The German Etching is one of the heavier weight Giclée art printing papers. With its weight and strong texture this paper gives an artwork a handmade crafted feel. Hahnemüle German Etching is a robust Giclée paper, meaning it doesn't tend to fray as much at the edges.
Delivery
-Free Shipping
-Print is shipped within 2 working days, after that it takes approximately 5 working days to get to you