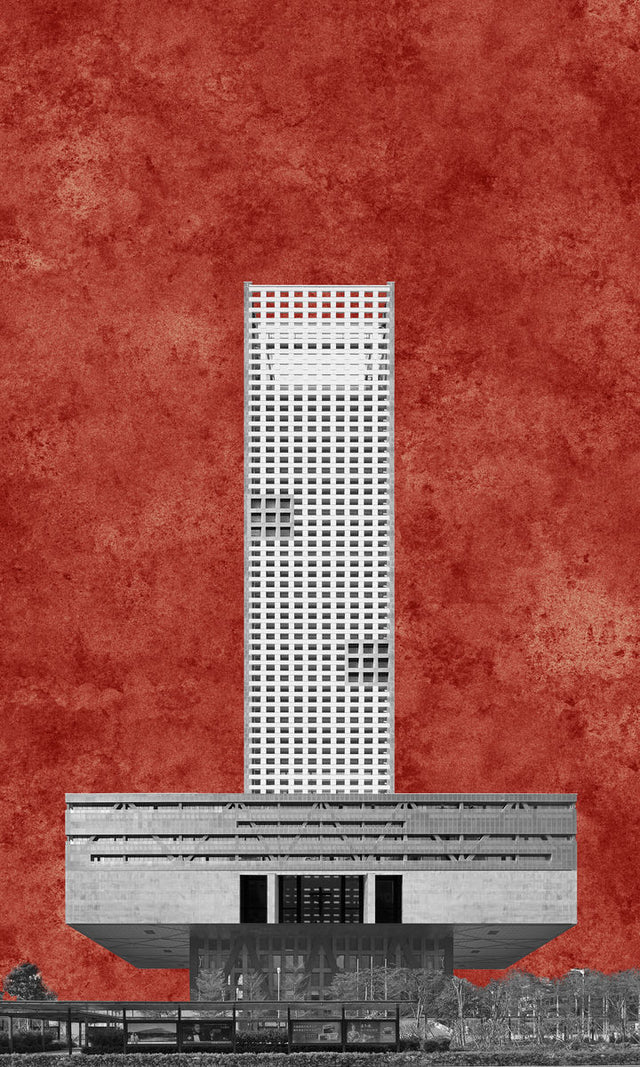 Contaminazioni II - OMAnestiroli, Sacro e Profano II
The intent of the image is to combine in a single representation two buildings and two distant concepts, but united by a similar dimension, that is, what is not properly tangible: the sacred world, religion, and the profane world, capital, speculation.⁠
⁠
The church of San Carlo Borromeo (2005-2011), work of the Monestiroli Architects Studio, in its formal simplicity, has a distinctive feature: the presbytery is an element placed inside the classroom, but at the same time independent, recognizable, focal center of the whole composition and with its rising tower reveals itself outside the church, at the same time becoming the transposition of a dome and a bell tower.⁠
⁠
It is a monumental element, necessary to testify the sacred character of the building and to make it recognizable to the community, such as the raised "base" of the Shenzhen Stock Exchange (2006-2013) created by OMA.⁠
⁠
The essence of the stock market is speculation, it is based on volatile capital. The Shenzhen Stock Exchange is conceived as a physical materialization of the virtual stock market. The suspended base represents the "floating" stock market. Usually the base of a building is what anchors it emphatically to the ground, in this case the base is as if it were raised by the speculative euphoria that drives the market. In doing so, it challenges the millennial convention of a solid building resting on a solid base.⁠
⁠
The raised podium contains all the functions of the stock exchange and is more visible to the public, virtually transmitting financial activities to the city.⁠
The podium and the tower above are combined as a single structure, while each having its own independence.⁠
The Shenzhen Stock Exchange constantly generates new relationships in the urban context, erecting itself as a landmark for new forms of architecture and urban planning, as well as the tower/presbytery of the church of San Carlo Borromeo.⁠
- Limited Edition of 100.

- Print sizes 30x50 cm
- Giclée print.
- Certificate of authenticity.
- Ready to frame.
- Delivery within 7 days.
Print Information
Giclée art printing papers
Hahnemühle German Etching - This heavyweight paper has a slightly warm base tone and a strong mottled texture. It creates a print with strong colours and deep blacks that feel rich and high in contrast. This is due to the texture of the paper enabling it to hold more ink and capture the light. The German Etching is one of the heavier weight Giclée art printing papers. With its weight and strong texture this paper gives an artwork a handmade crafted feel. Hahnemüle German Etching is a robust Giclée paper, meaning it doesn't tend to fray as much at the edges.
Delivery
-Free Shipping
-Print is shipped within 2 working days, after that it takes approximately 5 working days to get to you