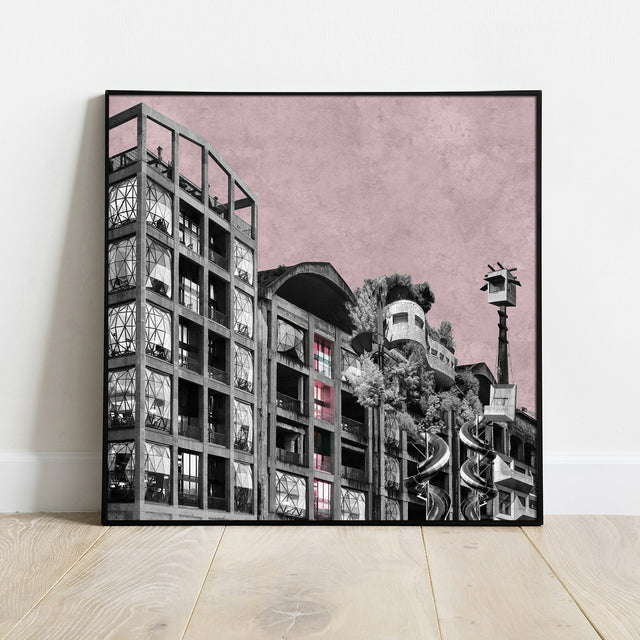 - Limited Edition of 20 (50x50cm) and 10 (25x25cm - 70x70cm).
- Giclée print.
- Certificate of authenticity.
- Ready to frame.

- Delivery within 7 days.
EX FABBRICA DELLA PENICILLINA⁠
Via Tiburtina, 1040, 00155 Roma RM⁠
You can give a new life to now abandoned realities and you want to demonstrate this through various interventions: starting from the Heatherwick project for the redevelopment of the Cape Town grain silo, passing through the COBE studio, authors of another intervention on a silo in the port of Copenhagen. The attempt is to provide an abacus of successful projects, coming from international realities. A brutalist aesthetic, which does not want to hide the concrete core.⁠
Print Information
Giclée art printing papers
Hahnemühle German Etching - This heavyweight paper has a slightly warm base tone and a strong mottled texture. It creates a print with strong colours and deep blacks that feel rich and high in contrast. This is due to the texture of the paper enabling it to hold more ink and capture the light. The German Etching is one of the heavier weight Giclée art printing papers. With its weight and strong texture this paper gives an artwork a handmade crafted feel. Hahnemüle German Etching is a robust Giclée paper, meaning it doesn't tend to fray as much at the edges.
Delivery
-Free Shipping
-Print is shipped within 2 working days, after that it takes approximately 5 working days to get to you