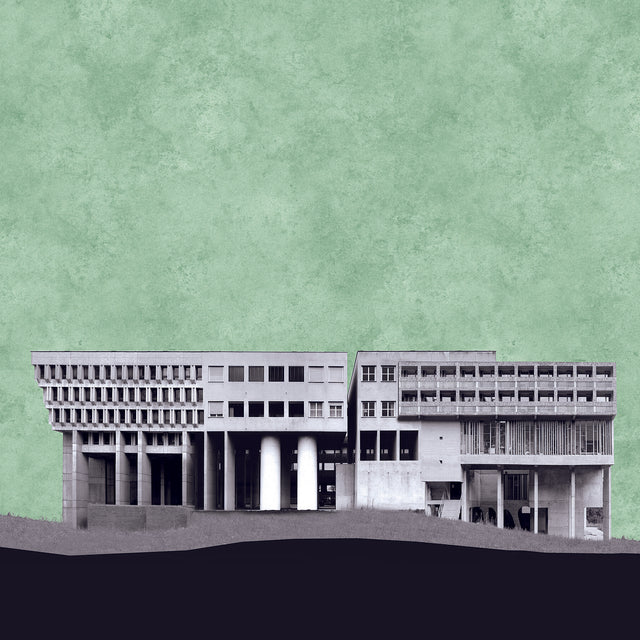 - Limited Edition of 100.
- Print sizes 50x50 - 70x70cm
- Giclée print.
- Certificate of authenticity.
- Ready to frame.

- Delivery within 7 days.
The idea of community, with different interpretations, links these projects.⁠
⁠
1960. The Convent of La Tourette is Le Corbusier's final building completed in Europe and is also thought by many to be his most unique program. It was built to be a self-contained world for a community of silent monks and to accommodate the unique and specific lifestyle of the monks. The monastery is made of one hundred individual cells, a communal library, a refectory, a rooftop cloister, a church and classrooms.⁠
⁠
As part of an international competition to design Boston's City Hall in 1962, three Columbia University professors, Kallmann, McKinnell & Knowles, diverted from the typical sleek, glass and steel structures that were being requested by popular demand. Rather than basing their design on material aesthetics, their goal was to accentuate the governmental building's connection to the public realm. Completed in 1968, the Brutalist style city hall bridges the public and private sectors of government through a gradient of reveal and exposure that allows the public to become integrated, either physically or visually, into the daily affairs of the governmental process. ⁠
⁠
The adoption of Piano Regolatore Generale, a new master plan, set the stage for the development of the 'Gallaratese' district in 1956. When the plan allowed for private development in late 1967, the commission for the project was given to Carlo Aymonino. Two months later Aymonino would invite Aldo Rossi to design a building for the complex and the two Italians set about realizing their respective visions for the ideal microcosmic community.⁠
Their interest lay not in solitary architecture but in urban communities with all the disparate elements required for a functioning society: residences, commerce, industry, and more. Gallaratese was, then, to be their chance to combine these elements and create a new community from scratch.⁠
Print Information
Giclée art printing papers
Hahnemühle German Etching - This heavyweight paper has a slightly warm base tone and a strong mottled texture. It creates a print with strong colours and deep blacks that feel rich and high in contrast. This is due to the texture of the paper enabling it to hold more ink and capture the light. The German Etching is one of the heavier weight Giclée art printing papers. With its weight and strong texture this paper gives an artwork a handmade crafted feel. Hahnemüle German Etching is a robust Giclée paper, meaning it doesn't tend to fray as much at the edges.
Delivery
-Free Shipping
-Print is shipped within 2 working days, after that it takes approximately 5 working days to get to you