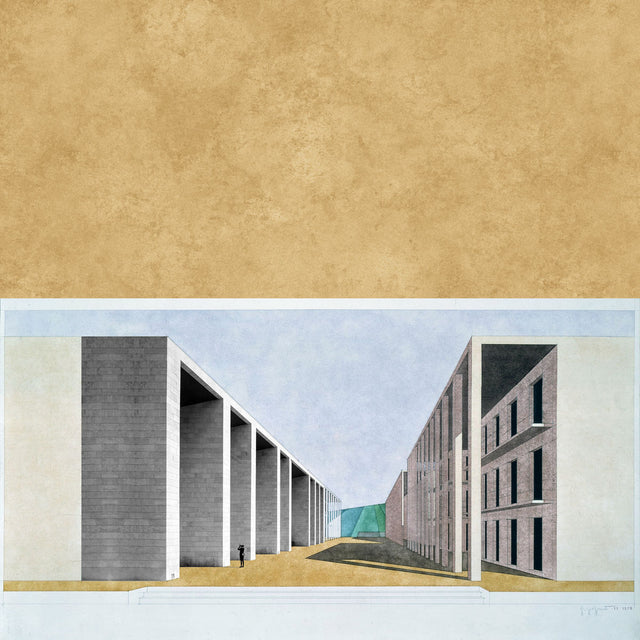 SovrappoSIZioni I - GrasSiza
The Portuguese pavilion, designed by Alvaro Siza, was designed to be the fundamental element of the 1998 Expo. The portico visible here represented the monumental entrance to the exhibition site and the large square, dominated by the characteristic and representative roof concrete and steel rods, only 20cm thick.⁠
⁠
In this overlap, the large portico always leads to a square, but to the one of the Student House in Chieti, designed by Giorgio Grassi and Antonio Monestiroli of the 70s.⁠
⁠
Overlapping the volume designed for the student canteen, the Siza portico communicates with the facing one created by the two Italian architects, characterized by long balconies, another aspect shared by the two projects (as can be seen from the following photos)⁠
Print Information
Giclée art printing papers
Hahnemühle German Etching - This heavyweight paper has a slightly warm base tone and a strong mottled texture. It creates a print with strong colours and deep blacks that feel rich and high in contrast. This is due to the texture of the paper enabling it to hold more ink and capture the light. The German Etching is one of the heavier weight Giclée art printing papers. With its weight and strong texture this paper gives an artwork a handmade crafted feel. Hahnemüle German Etching is a robust Giclée paper, meaning it doesn't tend to fray as much at the edges.
Delivery
-Free Shipping
-Print is shipped within 2 working days, after that it takes approximately 5 working days to get to you