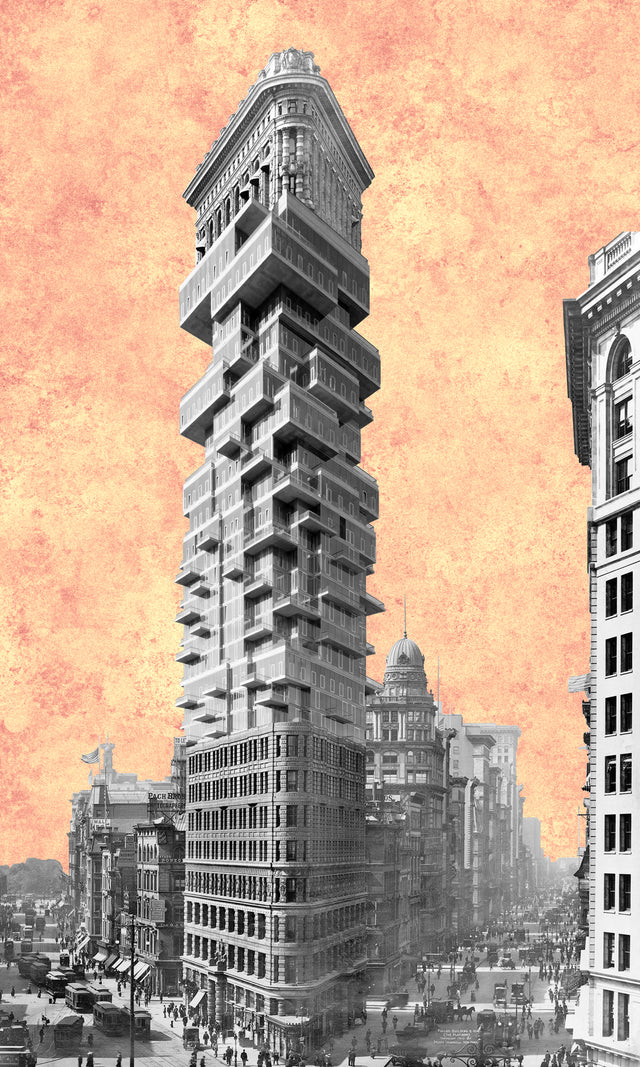 IcoNYC III - Herzog & De Flatiron
Another New York remix between icons of the 20th and 21st centuries: the Flatiron Building and the tower at 56 Leonard Street designed by Herzog & De Meuron. Both these buildings have as their main particularity their form and compositional logic, clearly distinguishing themselves from the classic "anonymous" towers defined exclusively by their height. Another aspect that unites them is certainly the technological vanguard.
Completed in 1902 by Daniel Burnham, the Flatiron Building was a prime architectural design at the advent of steel skyscraper construction in the United States. Known for its triangular design (the northern vertex is only 2m wide) at the intersection of 5th Ave. and Broadway, the Flatiron Buildings iconic presence has transformed an entire area of Manhattan into the Flatiron District.
Burnham uses the site's footprint to generate the base of the building; he employed a Renaissance design aesthetic with a Beaux-Arts styling that resulted in a tripartite steel skyscraper resembling a column of antiquity: base, shaft, and capital.

The high-rise tower is an important ingredient within the contemporary city. However, the multiplication of units within simple extruded shapes produces repetitive and anonymous structures with no extra benefits or architectural qualities. For those who live in these structures, this experience of sameness and repetition can be relatively unpleasant. 56 Leonard Street acts against this anonymity and repetitiveness.
The project is conceived as a stack of individual houses, where each house is unique and identifiable within the overall stack. A careful investigation of local construction methods revealed the possibility of shifting and varying floor-slabs to create corners, cantilevers and balconies – all welcome strategies for providing individual and different conditions in each apartment.
As a volume, the building has extreme proportions – at the very edge of what is structurally possible – and given its relatively small footprint, is exceptionally tall and slender. In this building, only five out of the 145 apartments are repeated. Furthermore, no two-floor plates are the same, giving those who will live in this project their own unique home characterized by distinct moments of individuality within the overall stack.
- Limited Edition of 100 (40x65 cm version).

- Print sizes 20x35 - 30x50 - 40x65 cm
- Giclée print.
- Certificate of authenticity.
- Ready to frame.
- Delivery within 7 days.
Print Information
Giclée art printing papers
Hahnemühle German Etching - This heavyweight paper has a slightly warm base tone and a strong mottled texture. It creates a print with strong colours and deep blacks that feel rich and high in contrast. This is due to the texture of the paper enabling it to hold more ink and capture the light. The German Etching is one of the heavier weight Giclée art printing papers. With its weight and strong texture this paper gives an artwork a handmade crafted feel. Hahnemüle German Etching is a robust Giclée paper, meaning it doesn't tend to fray as much at the edges.
Delivery
-Free Shipping
-Print is shipped within 2 working days, after that it takes approximately 5 working days to get to you