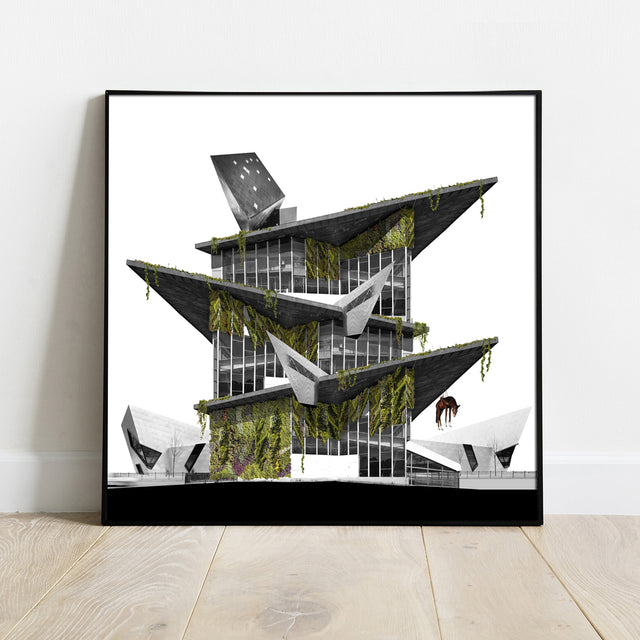 - Limited Edition of 20 (50x50cm) and 10 (25x25cm - 70x70cm).
- Giclée print.
- Certificate of authenticity.
- Ready to frame.

- Delivery within 7 days.
IPPODROMO DI TOR DI VALLE⁠
Via dell'Ippica, 00144 Roma RM⁠

Daniel Libeskind proposes an idea of architecture disconnected from time, dissolved in space. The historical period of the original building does not matter, the additions of the archistar break the continuity of the building and are inserted like fragments of another era. The building is enlarged, replicating itself on several levels and transforming into floors that dissect the volume obliquely, according to the logic of the fragmentation of spaces. Et voilà, that's it, but a question arises: is it a good game? ⁠

Print Information
Giclée art printing papers
Hahnemühle German Etching - This heavyweight paper has a slightly warm base tone and a strong mottled texture. It creates a print with strong colours and deep blacks that feel rich and high in contrast. This is due to the texture of the paper enabling it to hold more ink and capture the light. The German Etching is one of the heavier weight Giclée art printing papers. With its weight and strong texture this paper gives an artwork a handmade crafted feel. Hahnemüle German Etching is a robust Giclée paper, meaning it doesn't tend to fray as much at the edges.
Delivery
-Free Shipping
-Print is shipped within 2 working days, after that it takes approximately 5 working days to get to you