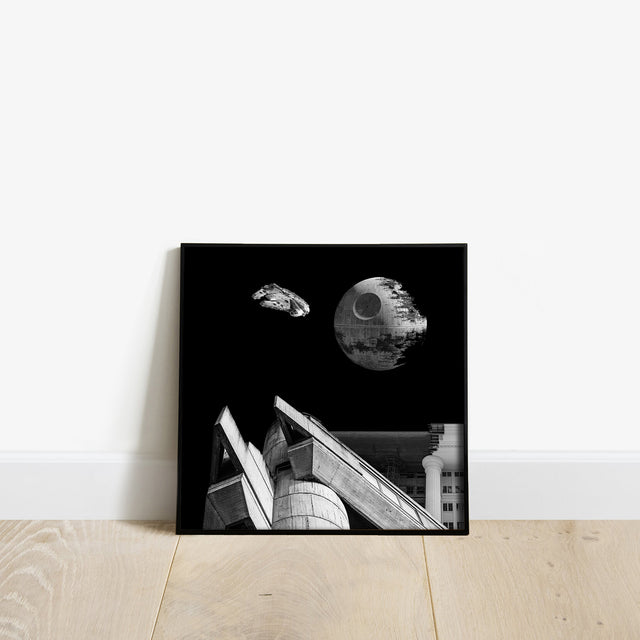 #SKOPJE BRUTALISM I - L'IMPERO COLPISCE ANCORA
- Open Edition.
- Print sizes 30x30 cm
- Giclée print.
- Certificate of authenticity.
- Ready to frame.

- Delivery within 7 days.
Operation SK2014 is gearing up to make important testimonies of Skopje's modernism disappear. But there is still some hope of salvation in the struggle between the "good" and the "dark side".
The design is the first in a series based on the research and reflection upon Macedonian brutalist architecture.
The goal is to fill a void often generated by the hegemony of the western architectural culture of the 20th century second half, marginalizing the results of a rich architectural production that today is at risk of being cancelled because involved in the transformation process that these realities are experiencing, in particular in the area of ​​ex-Yugoslavia.
There is a will to stimulate a different observation point on the modernist and brutalist heritage of this area, the last urban utopia of the twentieth century, freeing it from the negative connotation carried by the ideological legacies and trace different interpretative directions of an important phase of the history of the architectural thought.
The gravity center of this idea is the city of Skopje, capital of Macedonia, which today looks like a vast interrupted construction site. The founding parts of the city are currently undergoing interventions, expected with the "urban renewal SK2014", which is cancelling a significant part of its unconstrained assets, through the introduction of new eclectic-style envelopes that are covering the existing buildings.
Print Information
Giclée art printing papers
Hahnemühle German Etching - This heavyweight paper has a slightly warm base tone and a strong mottled texture. It creates a print with strong colours and deep blacks that feel rich and high in contrast. This is due to the texture of the paper enabling it to hold more ink and capture the light. The German Etching is one of the heavier weight Giclée art printing papers. With its weight and strong texture this paper gives an artwork a handmade crafted feel. Hahnemüle German Etching is a robust Giclée paper, meaning it doesn't tend to fray as much at the edges.
Delivery
-Free Shipping
-Print is shipped within 2 working days, after that it takes approximately 5 working days to get to you