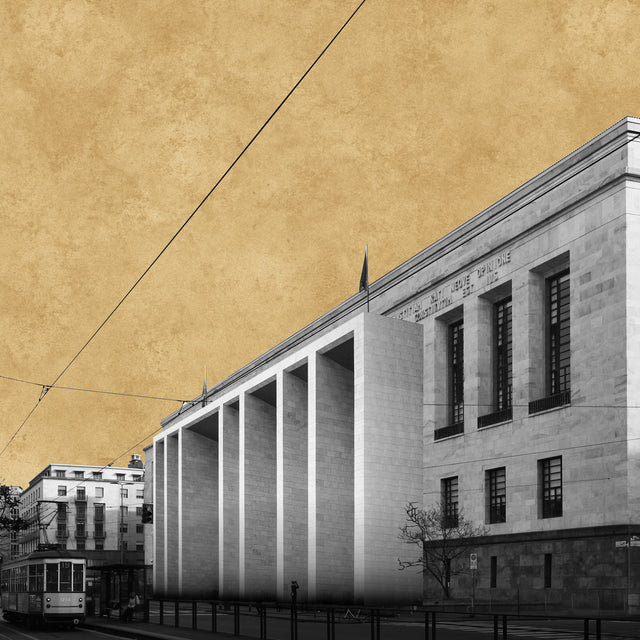 SovrappoSIZioni III - Palazzo di GiuSiza II
The Palazzo di Giustizia in Milan was built between 1932 and 1940 under the direction of the architect Marcello Piacentini.⁠
⁠
Piacentini represents the fascist regime of those years and he does this with great skill, handling the contradictions of the political system. "The main of which came from the ideology of the regime: wanting to be both ancient and modern at the same time, proclaiming to be the descendants of the Roman Empire and at the same time the builders of a new futuristic and rational world. A nation that aimed at austere simplicity and at the same time opulence and monumentality.⁠
Piacentini have been seen by many as an architect of equal size to the protagonists of the Modern Movement, forgetting the division between those who celebrate the present from those who have the ability to forsee the future, giving it shape ". [1]⁠
⁠
In fact Piacentini moved away from the European avant-garde. It can be said that its buildings have withstood time very well and surely they wanted much less maintenance than those required by the many houses designed by a Mies or a Le Corbusier. "However, the Italian architect forgot that the future is not built with the good sense of the accountant, but through the visions that only later will find good technical realization". [2]⁠
⁠
The Siza pavilion brings to my mind something related to Piacentini's life. In fact, it represents both the avant-garde and the past. Being the main pavilion of Expo '98, it is the bearer of modernity and reflection on current and future themes, using a language that takes its cue, however, from the modern movement and rationalism, then developing autonomously and spectacularly, giving life, for example, the concrete "veil" which forms the roof of the square. A double soul can therefore be found in this project by the Portuguese master.⁠
[1],[2] L. Prestinenza Puglisi
- Limited Edition of 100.

- Print sizes 30x30 - 40x40 cm
- Giclée print.
- Certificate of authenticity.
- Ready to frame.
- Delivery within 7 days.
Print Information
Giclée art printing papers
Hahnemühle German Etching - This heavyweight paper has a slightly warm base tone and a strong mottled texture. It creates a print with strong colours and deep blacks that feel rich and high in contrast. This is due to the texture of the paper enabling it to hold more ink and capture the light. The German Etching is one of the heavier weight Giclée art printing papers. With its weight and strong texture this paper gives an artwork a handmade crafted feel. Hahnemüle German Etching is a robust Giclée paper, meaning it doesn't tend to fray as much at the edges.
Delivery
-Free Shipping
-Print is shipped within 2 working days, after that it takes approximately 5 working days to get to you