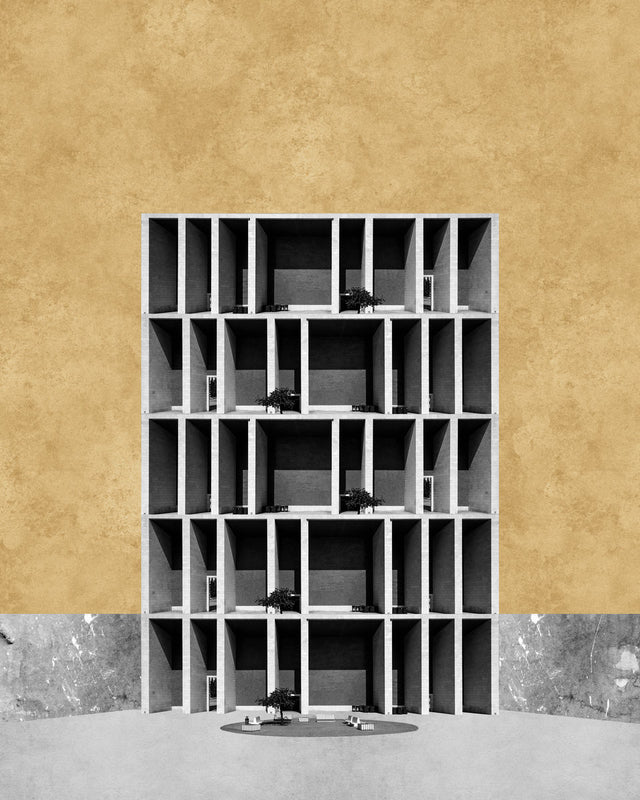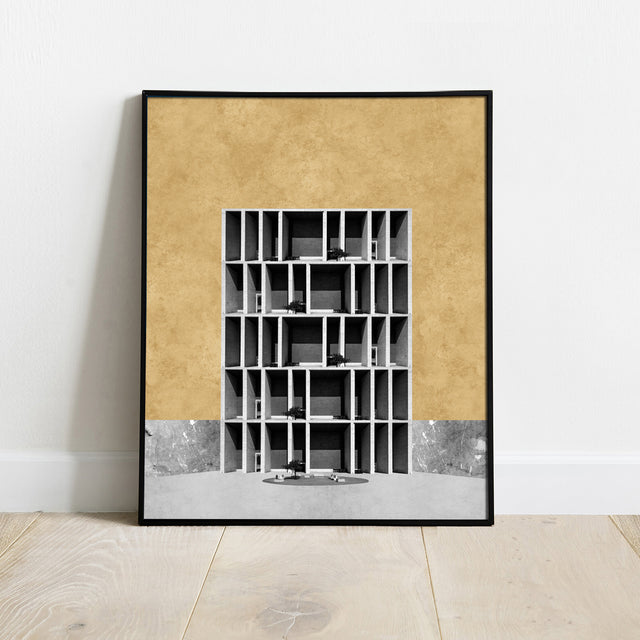 SovrappoSIZioni II - Siza OverSize
- Limited Edition of 100.

- Print sizes 40x50 cm
- Giclée print.
- Certificate of authenticity.
- Ready to frame.
- Delivery within 7 days.
At the Expo '98 Portuguese National Pavilion, structure and architectural form work in graceful harmony.
The heart of the design is an enormous and impossibly thin concrete canopy, draped effortlessly between two mighty porticoes and framing a commanding view of the water.

Under the graceful touch of Álvaro Siza Vieira, physics and physical form theatrically engage one another, and simplicity and clarity elevate the pavilion to the height of modern sophistication.

Two monumental piers support the roof, behind one of which sits a building designed to house the pavilion's main exhibition spaces.
The porticoes, while playing an important structural role, are articulate architectural elements in their own right. In the photomontage the element becomes a building itself. Each has nine massive columns, arranged in a beautifully rhythmic but provocatively asymmetrical manner. Deep cuts between the columns create dramatic contrasts of shadow and light, highlighting the clean lines of the columnar profiles.

Perhaps the most striking quality of the pavilion is its interplay between moments of delicacy and monumentality.

Careful decisions about scale project a varyingly imposing and welcoming presence, particularly in the proportions of the porticoes and the canopy. The rational, ordered, and stark language of these devices draws the eye to the the simple range of forms framing the ocean view and lets these powerful geometries speak for themselves.

Print Information
Giclée art printing papers
Hahnemühle German Etching - This heavyweight paper has a slightly warm base tone and a strong mottled texture. It creates a print with strong colours and deep blacks that feel rich and high in contrast. This is due to the texture of the paper enabling it to hold more ink and capture the light. The German Etching is one of the heavier weight Giclée art printing papers. With its weight and strong texture this paper gives an artwork a handmade crafted feel. Hahnemüle German Etching is a robust Giclée paper, meaning it doesn't tend to fray as much at the edges.
Delivery
-Free Shipping
-Print is shipped within 2 working days, after that it takes approximately 5 working days to get to you